Featured Exhibits
---
Sign up for the Newsletter
Advertise on ParachuteHistory.com
---
---
Disclaimer
Privacy Policy
About
---
Lew Sanborn
Lew Sanborn is one of the legends in skydiving. He started jumping in 1948 and still sets records today. The most recent record was the SOS (Skydivers Over Sixty) World Record 23-way at Skydive Elsinore on Oct. 6, 2001.

Sanborn started jumping in the Army Airborne in 1948. He did 35 static line jumps. In 1950 he did his first freefall as an Army Sergeant.

Once out of the Army, he competed and placed third in the National Aircraft Show, Dayton, OH in 1953. The following year he attained the National Overall Champion at the same show. The National Aircraft Show moved to Philadelphia, PA in 1955, where Sanborn placed fifth.

At the Third World Parachuting Championships, Moscow, Russia 1956, Sanborn was a team member and the high scorer for the US. The style set was only a single figure 8 within 12 seconds. Accuracy was measured out to 100 meters.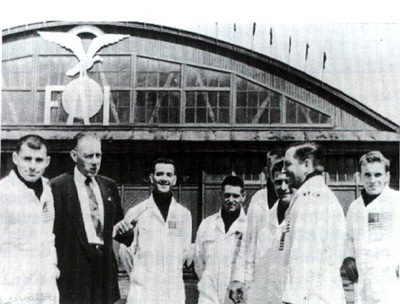 Sanborn captained the US Team at the Fourth World Parachuting Championships, Bratislava, Czechoslovakia, 1956.
Team captain, Jacques Istel is ar far left, then Joe Crane. Lew Sanborn is at far right.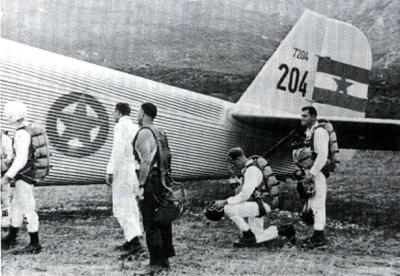 Lew Sanborn, kneeling, prays before boarding a JU-52 at the 1957 Yugoslavia Meet.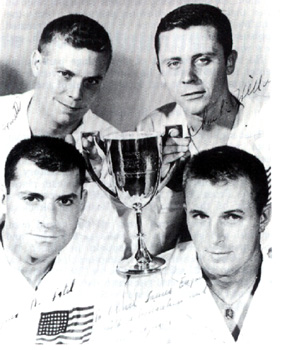 The US Team won the 1958 French Coupe du Monde. It was an invitational competition that symbolized air supremacy.
First Row: Jacques Istel, Lew Sanborn; Second Row: Dana Smith, Charlie Hillard.
Parachutes Incorporated was founded by Lew Sanborn and Jacques Istel in 1957. They started teaching the Army's first official freefall course. By May of 1959, they opened the first commercial drop zone in the US at Orange, MA. This was a striking departure from the Army course. Now civilians could learn to jump in one day. They did not have five weeks of training, lots of running and lots of pushups.
Telsan Technique
The Telsan Technique operated under the premise that any reasonably intelligent, reasonably healthy person could be taught the basics of parachuting, canopy control, emergency procedures and then go do their first jump that same day.
The name Telsan came from tel in Istel and san in Sanborn.
Telsan became quite popular via many promotional efforts. The New Yorker ran a story and many other publications had stories of 'Beautiful People' and celebrities 'taking to the sky'.
More Contributions
Sanborn was the first person to jump with a sleeve tied on to the apex. Sleeves had just been introduced in France, tying it on was a new idea. It worked.
Sanborn was the first person to film another jumper with a motion camera. From this pioneering effort came the first skydiving movie: 'A Sport is Born' that was also nominated for an Academy Award. Later in 1962 he filmed the Sixth World Parachuting Championships held at Orange, MA for TV.
The first World Parachuting Record claimed by the US was done by Lew Sanborn, Jacques Istel, Nate Pond and William Jolly. The official PCA cable sent to the FAI in Paris, France reads:
US PARACHUTISTS ISTEL, SANBORN, POND AND JOLLY CLAIM DAYLIGHT C-II-d PRECISION GROUP (4) DELAYED OPENING JUMPS FROM 1,500 METERS RECORD 4.145 METER AVERAGE ON NOVEMBER 28, 1961 AT 2210 GMT AND NIGHT FOR SAME TYPE RECORD 4.229 METER ON NOVEMBER 29, 1961 AT 0420 GMT.
This record was done during a live television broadcast. The record event was the direct result of Sanborn and Istel and the sponsorship of Orange SPC of Parachutes Incorporated.
Sanborn and his team placed second at the first Para-Ski Meet in Mad River Glen, VT, 1961.

Part of PCA Board at first 1965 Meeting: Raymond Starnes, Mark Baron, Edward Lowder, Lew Sanborn, Leon Potts, Dr. Ed Fitch
Sanborn served on the PCA Board from 1958 to 1965. Top vote getter in the 1965 election, Sanborn received 1630 votes of 1877 valid ballots cast. Sanborn was nominated for Chairman of the Board and President in 1965, but declined both offers. He did Chair the Safety and Training Committee.
Sanborn was Chief Judge at the 1964 US Nationals in Salt Lake City, UT.
Sanborn took up piloting in 1958. He crashed his plane on some power lines as he was returning to Orange underneath cloud cover. The wheels of the Luscombe snagged power lines, flipped the aircraft engine first into icy waters of the Deerfield River. He required months of intensive care before being able to jump and fly again.
As a pilot, Lew Sanborn flew at the 1968 US Nationals in Marana, AZ, Plattsburg, NY in 1970 and Tahlequeh in 1971-73. In 1969 he trained Siamese Air Force Officers to fly Heli-Porters.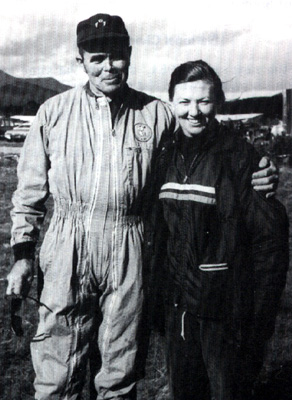 In 1972, Sanborn made his first 8-way or larger formation to earn the Star-Crest Recipient Award. He entered fifth on a 9-way. The next jump he earned his Star-Crest Soloist Award by entering eighth on a 10-way.
How did Lew Sanborn become D-1?? A simple coin flip between Sanborn and Jacques Istel decided who got the first number. At the time, instructor ratings were also numbered. Istel won the coin toss and chose to take Instructor 1. Sanborn got D-1. Over the years, the numbering of ratings was discontinued, but licenses still are numbered.
The Leo Stevens Award was presented to Lew Sanborn on January 13, 1965. The award is for distinguished contribution to aviation safety through the saving of life by parachute. He had over 950 jumps then. The citation stated that Sanborn's technical skill and progressive thinking in the field had and would in years to come, undoubtedly save many lives through improved parachute design and free fall techniques.
Sanborn's acceptance speech addressed a controversy earlier that year. He said he had a desire to work more closely with government agencies at all levels for the betterment of the sport. He stated that there was no room for individuals that indulge in parachuting for the purpose of gaining a "death defying stuntman" reputation. (Rod Pack did his chuteless jump January 1, 1965.)
In 1968 Sanborn returned to his construction career. He retired from that in 1992.
In 1972 Sanborn received the second USPA Achievement Award for "originating safe and reliable parachuting equipment and for pioneering work in free fall photography."
Lew Sanborn became the first person to celebrate 50 years of freefall skydiving April 16, 2000. He made his 5,782nd jump at the Clinton Airport, in Clinton, North Carolina, where he made his first freefall skydive in 1950. Sanborn jumped every year since and celebrated this historic event with more than 30 of his closest friends, including the world champion U.S. Army Golden Knights' skydiving team.
A Letter to the Editor in June 1993:
In 1976, I moved from Orange, MA to Orlando, FL. Several years after that move, a friend and fellow skydiver by the name of Tom Plonka gave me a foam drink holder. On the outside of the holder were the words, "When your ship comes in, you will be at the airport."
Kim Tucker has been waiting about 30-plus years to shoot a cover of PARACHUITIST magazine. I've been waiting 44 years to be on the cover of any magazine. I shot the cover of Sports Illustrated in March 1961, a little known fact.
Well, when my turn comes up, what happens? It gets moved inside four pages! Something about ships and airports, I guess.
Seriously Thanks.
Lew Sanborn, D-1
In October 2001, Sanborn was part of another World Record. The SOS group formed a 23-way over the skies of Lake Elsinore, CA.
---
Lew Sanborn Official Resume
Born: July 10, 1930 Cleveland, OH
Number of jumps as of October 2001: 6092
USPA Licenses: A-1, B-11, C-19, D-1

First Jump: April 18, 1949 Ft. Benning, GA
First Freefall: April 16, 1950 Clinton, NC

Education:

1948 - Graduated High School - Honor Roll Student 8th in a class of 55

1949 - Infantry School - Graduated Basic Airborne Course - top 10%
Armed Forces Information School - Information and Education Course top 10%

1951 - Chemical Corps School - Chemical, Biological and Radiological Course

1952 - Construction Apprenticeship School, Ft. Lauderdale, FL 4-year course

1956 Graduated first in class


Military Service:


1948 - recruit enlisted August 14, 1948

1949 - Private Feb 19; Private First Class Aug 15

1950 - Corporal Sept 23; Sergeant Dec. 5

1951 - Sergeant First Class Apr. 20

1952 - Honorably discharged Jun 13


Business Career:


1952 - entered construction business

1956 - completed four years with engineering and construction corporation

1957 - co-founder of Parachutes Incorporated, Executive Vice President
First HALO instructor for US Army Nov.-Dec.

1959 - President and General Manager - Hemet Sport Parachuting Center, Inc CA

1961 - President, Orange Sport Parachuting Center, Orange, MA

1962 - Director of the Inn At Orange Inc

1968 - 1991 returned to construction career

1992 - retired from work force


Aviation Skills:


1946 - started flight training

1950 - Soloed while on furlough from the 82nd Airborne Division

1958 - 1967 Private, Commercial, Instrument, Multi-Engine, Sea Plane, Glider, Glider Flight Instructor ratings

1967 - Checked out in turbo-prop Heli-Porter, Hagerstown, MD. Heli-Porter pilot, National Parachuting Championships. Personal pilot, Mr. Joe Foss, northwestern Canada and Alaska, under contrac5t for Fairchild Hiller Aircraft.

1968 - Pilot, National Parachuting Championships, Marana, AZ

1969 - Transition training pilot, Royal Thai Air Police, Thailand. Heli-Porter.

1970 - Pilot, National Parachuting Championships, Plattsburg, NY.

1971 - 1973 Pilot, National Parachuting Championships, Tahlequah, OK


Parachuting:


1949 - Apr. 18 first static line jump, glider and parachutist badges

1952 - Military parachutist. 35 military jumps with the 82nd Airborne Division.

1953 - Third place at the National Aircraft Show, Dayton, OH

1954 - National Champion at the National Aircraft Show, Dayton, OH

1955 - Fifth Place at the National Aircraft Show, Philiadelphia, PA

1956 - Team member and high scorer of US Parachuting Team. Third World Sport Parachuting Championships, Moscow, Russia

1957 - Team member and high scorer US Parachuting Team, Tivat, Yugoslavia

1958 - captain and competing member US Parachuting Team, Fourth World Parachuting Championships, Bratislava, Czechoslovakia. Winner, along with 3 teammates of Coupe du Monde, Paris France

1959 - Parachute Rigger License- back, seat and chest

1960 - devised the technique of freefall photography - made Academy Award nominated film "A Sport is Born"

1961 - shot the cover and 5 color inside photos in Sports Illustrated

1962 - official freefall photographer for CBS at the Sixth World Sport Parachuting Championships, Orange, MA

1964 - Chief Judge National Parachutiong Championships, Salt Lake City, UT

1965 - Recipient of the Leo Stevens Award

1968 - Gold Wings (1000 freefalls) #150

1972 - awarded the USPA Achievement Award "for originating safe and reliable parachuting equipment and for pioneering work in freefall photography"

1978 - 12 hours of freefall # 267; Diamond Wings (2000 freefalls) # 204

1983 - 24 hours of freefall # 155; Double Diamond Wings (3000 freefalls) # 127

1987 - 36 hours of freefall # 103

1989 - Triple Diamond Wings # 111

1992 - 48 hours of freefall # 139

1994 - Lew Sanborn Accuracy Meet established in Mississippi

1995 - Quadra Diamond Wings # 125

1998 - 60 hours of freefall # 234; POPS World Record of 91 jumpers.

2000 - March 22, inducted into the Hall of Fame of Parachuting, Felicity, CA
Fifty years of continuous membership in NPJR, PCA and USPA.

2001 - Oct. 6 SOS World Record of 23 jumpers.

----- to be continued.........
---
---