Featured Exhibits
---
Sign up for the Newsletter
Advertise on ParachuteHistory.com
---
---
Disclaimer
Privacy Policy
About
---
Barish Sailwing
The Barish Sailwing was a single surface gliding parachute developed by David T. Barish in 1965. It was manufactured by Parachutes Incorporated in Orange, MA. The penneant like material provided stability.

The canopy bulk was about half on contemporary conventional canopies, yet the descent rate was about half.

The canopy came with single risers on each side, either old or new Capewell riser releases, had eight 1500 pound suspension lines, and had a 'Safety Stop' steering system.

The Safety Stops were to prevent accidental stalling of the canopy. Only a 5 pound toggle pressure was required until the stop was reached. After that the toggle pressure increased to 20-25 pounds.

Accuracy was quite good, as two of Parachutes Incorporated test jumpers made dead centers on their first jump on the canopy.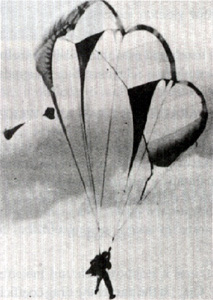 Performance Data

Descent Rate:
10-11 fps

Forward Speed:
~20 mph

Opening Shock:
comparable to low porosity, flat circular canopies

---
---